Until Proven Guilty
Author: J.A. Jance
Publication Year: 1985
Page count: 352ish (depending on your copy!)
Genre: Mystery
Brief Description:
The little girl was only five, much too young to die -- a lost treasure who should have been cherished, not murdered.She could have been J.P. Beaumont's kid, and the determined Seattle homicide detective won't rest until her killer pays dearly. But the hunt is leading Beaumont into a murky world of religious fanaticism, and toward a beautiful, perilous obsession all his own. And suddenly Beau himself is a target -- because faith can be dangerous... and love can kill.
Amazon Link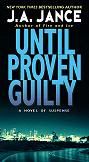 ----------------------------------------
----------------------------------------
Movie Title:
The Departed
Release Year: 2006
Genre: Mystery/Thriller
Brief Description:
Two men from opposite sides of the law are undercover within the Massachusetts State Police and the Irish mafia, but violence and bloodshed boil when discoveries are made, and the moles are dispatched to find out their enemy's identities.
IMDB'd

Book Title: