The Departed! And time to discuss it as well!

You need to watch the movie by July 30th! But by no means does that mean we have to stop discussing it by then!

Did you see any similar themes between book and movie? Favorite Character from the movie? Lets talk about it!
Soo! It's time to watch
Until Proven Guilty, should be finished this coming week! Friday the 30th! Discussion time! Remember your predictions? How did they turn out? What more would you LIKE to have seen from JP and crew? Any amazing scenes you loved? Hated?

Favorite one liners? Favorite character (Major/Minor)?

:D
So our book,
1. Timelines
So I've been playing around with trying to find the "right" amount of time that we spend on books and movie watching and collecting our stuff for the next set of selections. It's only fair to give a week to get the next selections, so that timeline is nailed. The question I wanted to answer is "How long do we give for the last week of the book/book-commenting and for movie-watching/commenting?" Let's give this a shot: The final week includes a)finishing the book and commenting AND b)watching the movie and commenting. Then, the next week, we jump in to the next selections.
What does it mean?! (DRATW!)
We're on the final week for
Until Proven Guilty
, so finish it before Friday and get your comments in
here
. Also, watch
The Departed
and comment on it in the post that Ali will soon get up on the community. Finally, this is the week when you should start looking for the next selections Bryce will soon post. And go!
The week starting on Friday, July 30th, will kick off Round #1, BRYCE'S selections, so strap on your boots!
2. Participation
Here's my thoughts: The community isn't just about reading and watching; it's about conversation around what we're taking in. If you're not doing this for the selections of others, it doesn't seem right to then turn around and ask others to do it for you. So, with that in mind, if you haven't participated at all so far (Mila, Zac, I'm looking at you!), now's your chance. Otherwise, I expect the right thing to do is to skip you in the round rotation when it comes to selections. Harsh? I dunno, maybe. But fair? I think so.
Okay then! Go forth!
Right!


So I'd like everyone to read to chapter 17 in Until Proven Guilty that's just a little over the 200 page mark. The problem I was having, chosing a chapter, was that all the chapters are short and typically J.A. Jance books are very easy reads.. but what I'm interested in, after thinking about it.. is a good talk about WHO DONE IT? What are YOUR predictions for the book?

That way when we finish this we'll all know. :)

Happy reading!
Hey Guys I'm sorry I didn't post it earlier (patience is a virtue FAE.) but I had a trip to the hospital and I'm still on muscle relaxers and in a lot of pain. But anyway. This book is cooler than me being lame (literally).


The day I've been waiting for.

Today is the day we start reading Until Proven Guilty.

But there are no posts for this book. Or for th emovie, which we won't watch until after we're done with the book.

So. Post. So I can have a place to put what I think about the reading.

Yes.

Signed,
Fae
Today is the day.
Until Proven Guilty
Author: J.A. Jance
Publication Year: 1985
Page count: 352ish (depending on your copy!)
Genre: Mystery
Brief Description:
The little girl was only five, much too young to die -- a lost treasure who should have been cherished, not murdered.She could have been J.P. Beaumont's kid, and the determined Seattle homicide detective won't rest until her killer pays dearly. But the hunt is leading Beaumont into a murky world of religious fanaticism, and toward a beautiful, perilous obsession all his own. And suddenly Beau himself is a target -- because faith can be dangerous... and love can kill.
Amazon Link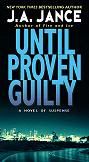 ----------------------------------------
----------------------------------------
Movie Title:
The Departed
Release Year: 2006
Genre: Mystery/Thriller
Brief Description:
Two men from opposite sides of the law are undercover within the Massachusetts State Police and the Irish mafia, but violence and bloodshed boil when discoveries are made, and the moles are dispatched to find out their enemy's identities.
IMDB'd

Book Title:


Sorry for the confusion! I go to post now on 1984....
And hey, this week, finish the book, too! <3!

And oh yea! We also have added ZAC to our rag-tag rank. HI ZAC, YOU RULE!
I totally forgot about the week starting today -- it's the week in which we finish 1984, so the discussion should be around it instead of ... uh... anything else. NEXT FRIDAY, the 9th, is the day when Ali will give us our next set of tastiness -- and it's also the day when we watch/discuss Equilibrium!
Friday, July 2nd, after the Round 2 selections are posted! (Hear that, Ali?! No slacking!)

SEE NEW POST BECAUSE I R A TARD
Movie watching (and the tasty movie discussion) will happen

Discussion is always welcome during your reading progress -- just remember to record your current page number in the subject line so people know where you're coming from.

And hey! <blockquote> was made for book quotes</blockquote>!
Reading of the first 200 pages begins Friday, June 25th and goes for 7 days.
Book Title: Nineteen Eighty-Four
Author: George Orwell
Publication Year: 1949
Page count: 386
Genre: Social science fiction
Description (from Amazon): George Orwell's nightmare vision of a totalitarian, bureaucratic world and one poor stiff's attempt to find individuality.
---
Movie Title: Equilibrium
Release Year: 2002
Genre: Science fiction
Description (from IMDB): In a Fascist future where all forms of feeling are illegal, a man in charge of enforcing the law rises to overthrow the system.
---
BONUS: Dystopian tune for your listening pleasure: Muse - "Resistance"